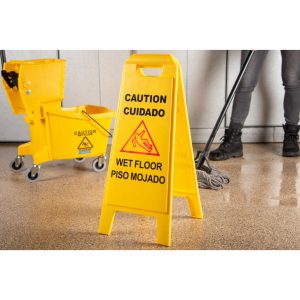 Georgia slip and fall law is anchored by the idea that legal blame rests on the owner of the property or creator of the spill only if the faller does not have knowledge or warning of the hazard. The Court of Appeals of Georgia recently issued an opinion in a premises liability lawsuit stemming from a slip and
fall accident at an airport. The plaintiff, a general manager at a stand at the Atlanta airport, stepped off an escalator and slipped on a puddle of water. The woman landed on her side, hit her head, and lost consciousness. After regaining consciousness, she realized her clothes were wet but did not recall seeing the wet floor where she fell. As a result of the fall, she suffered serious injuries to her neck, spinal cord, and vision. A supervisor inspected the area and did not see any water, but he did notice three wet floor signs and that proved the undoing of the case
The woman filed a negligence lawsuit against the independent contractor responsible for servicing the area. She argued that the defendant had superior knowledge of the hazard and had the duty to warn the plaintiff of the hazard. She claimed that the defendant breached their duty and failed to exercise ordinary care. The defendant moved for summary judgment, arguing that the plaintiff had equal knowledge of the hazard. The trial court granted the defendant's motion saying that once the wet floor signs are put up, the plaintiff has equal knowledge that the floor is wet.
Under Georgia's premises liability law, plaintiffs must establish that their injury was caused by a dangerous hazard on an owner or occupier's premises. To do this, the plaintiff must prove and plead that the at-fault party had knowledge of the danger. (they did here) In addition, a plaintiff must show that, despite exhibiting ordinary care, the faller lacked knowledge of danger because of the defendant's behavior or conditions under their control.(the faller had knowledge here)
In this case, the court reasoned that the defendant knew about the water because its employee had
recently cleaned the floors. The next step in the inquiry was whether the plaintiff had equal knowledge of the floor's condition and if she exercised ordinary care. The court found that the evidence was "plain, palpable, and undisputed" that the plaintiff had knowledge of the danger. The court examined evidence that established that the plaintiff saw the employee cleaning the floor and noticed the "wet floor" sign. Further, the woman testified that she was looking ahead as she was walking, the lighting was appropriate, and nothing obscured her vision. At that point, it's pretty much game over for the lawsuit. Ultimately, the court affirmed the lower court's grant of summary judgment.
Have You Suffered Injuries in a Georgia Slip and Fall Accident?
If you or someone you know has suffered injuries in a Georgia slip and fall, trip and fall, or other premises liability accident, contact the experienced attorneys Christopher Simon, Attorney at Law. The attorneys at our office have extensive experience successfully handling all types of Georgia personal injury lawsuits, including premises liability claims. We also handle other types of claims, including those stemming from car and truck accidents, dangerous or defective products, and instances of medical malpractice. Through our effective representation, our clients have recovered substantial amounts of compensation, including payment for medical expenses, ongoing medical treatment, pain and suffering, and funeral and burial costs. Contact our office at 404-259-7635 to schedule a free initial consultation with an attorney at our law firm.